If you are a fan of Muay Thai, chances are you want a heavy bag readily available at home for practice. With multiple choices in the market, it can be difficult trying to figure out which brand offers the sturdiest and most reliable heavy bags.
This is when the article comes in handy. With detailed reviews on the best-selling items and other relevant information regarding this highly sought-after gym equipment, rest assured that you will be able to purchase the best Muay Thai heavy bags in no time!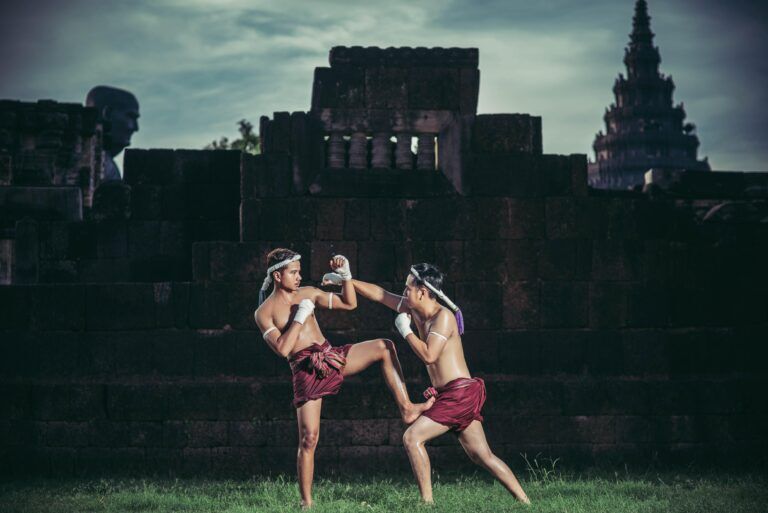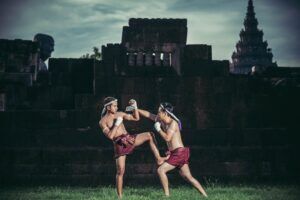 Best Muay Thai Heavy Bags (Updated List)
How To Choose The Best Muay Thai Bags
If you intend on buying a Muay Thai bag, it is essential that you consider the following factors. Understanding what makes or breaks a high-quality punching bag enables you to purchase proper gym gear.
Cover material
What your Muay Thai bag is made from should be your top priority. The material directly affects the durability of your products, so do not hesitate to examine it closely.
Most standard Muay Thai bags use faux leather to keep the punching bag in shape while maintaining its robustness. Another cheaper alternative is nylon, which is more lightweight but less rigid. Sometimes, the canvas is also utilized in Muay Thai bag covers.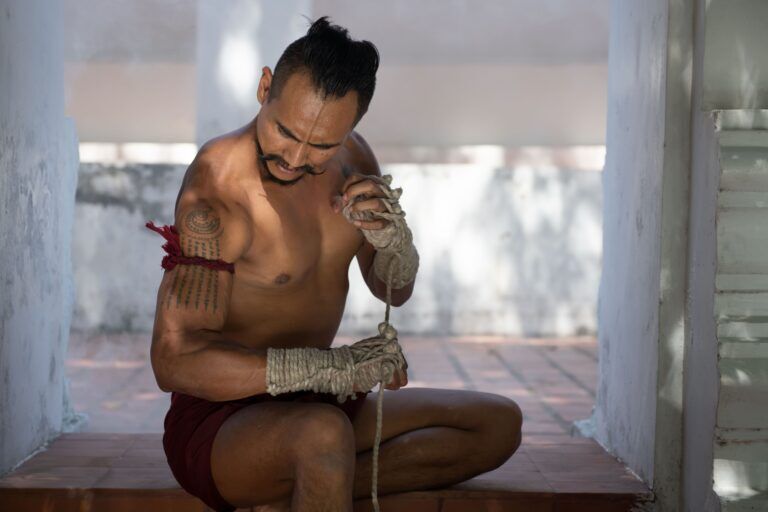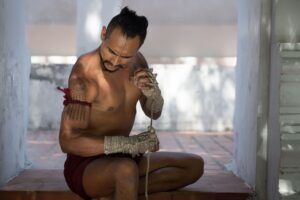 Size
For amateurs, it is best that you stick to Muay Thai heavy bags weighing no more than 100lbs. However, not all novices can endure such a hefty weight right from the beginning.
If you think you need to warm up a bit, consider buying heavy bags at roughly 70-80lbs.
On the other hand, advanced fighters are more inclined to buy heavier punching bags. Anything from 120-150lbs will fit into this category.
But remember, these bags are not designed for everyone. Do not overexert yourself with these bags, or else you run the risk of injuries.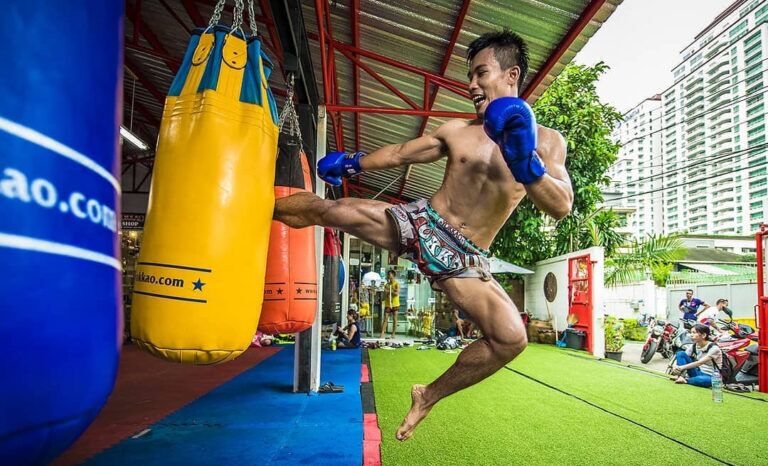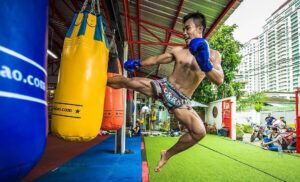 How to filling a Muay Thai Heavy Bag
What your Muay Thai heavy bag contains determines the level of comfort in your user experience. It also helps maximize the efficiency of your training sessions, so check out the pros and cons of each substance.
For example, sand is easy to fill and concrete enough for punches and kicks. However, it tends to settle at the top of the bags over time, creating an uneven distribution.
Other people prefer using shredded textiles due to their softness. The fabric also remains intact even after being hit repeatedly, which means your bag can retain its shape for a long time.
There are also several options to choose from, including rubber mulch, water, or sawdust. Whatever you want to fill your bag with, make sure to do it properly, so no leakage happens.
Muay Thai heavy bags Design
Strictly speaking, Muay Thai heavy bags are slightly bigger and curvier than traditional punching bags. But this does not mean the build quality is limited.
Most Muay Thai punching bags have a cylindrical shape, which is the easiest for mounting and practicing. But there are other Muay Thai bags in which the bottoms are much bigger than the tops.
Depending on your fighting preferences and the environment you intend on working out, go for a look that works best in your favor.
Top 10 Muay Thai Heavy Bags Reviews (Top-Recommended Products)
Fairtex Heavy Bag – Best For Variety
The first product that I would like to include in the list of best Muay Thai heavy bags is the model from Fairtex. Apart from the distinguished brand name, what strikes me the most about these items is their variety.
Feel free to choose one among 13 options available, ranging from traditional pole bags, hydro bags, to banana bags. Each of these varieties has its own characteristics, so you can get home a product that fits your needs effortlessly. Amazing, right?
But the charms of Fairtex heavy bags do not end there. As far as the material is concerned, the manufacturers use synthetic leather to construct the cover bag. This way, not only is it highly durable and shock-absorbent, but it also resists daily wear and tear.
Another feature worth mentioning about these bags is their mounting straps. The industrial strength nylon web straps are already included in the package, so there is no need for separate purchase.
At contact points, there are plenty of rivets and stitches to keep the bag in place. This allows you to be as strenuous in your physical exertion as possible.
Still, there is one disadvantage that you should be aware of. Fairtex does not provide a filled option with these bags, which means you have to take care of the filling yourself.
Pros:
Lots of varieties to choose from.
Synthetic leather cover.
Durable straps.
Cons:
Not pre-filled.
Outslayer Heavy Bag – Best For Warranty Policies
If you are looking for a standard heavy bag reserved for advanced kicks and punches only, nothing beats the good old Outslayer. An Outslayer heavy bag weighs exactly 100lbs, the typical heaviness required for fighters during training sessions.
You can release your inner beast by repeatedly pounding at the bag without fearing it might crack. This is thanks to the heavy-duty vinyl cover bag and the fabric filling.
Combined with the already sewn straps at the top, Outslayer manages to remain stable upon contact. No longer do you have to worry about your bag swinging excessively when practicing.
Even better, these items come with excellent warranty policies. The company emphasizes how sturdy their heavy bags are, claiming that each bag can last well beyond 10 years. Therefore, should your bag rupture or break down within this time frame, you will get a brand new bag in exchange.
How wonderful, don't you think?
I also enjoy the fact that Outslayer uses cotton for filling instead of sand or any other cheap material. The shredded pieces of cloth ensure the consistency and resistance of the bag. At the same time, it does not sink to the bottom, so you can avoid having to deal with hollow tops.
Unfortunately, an Outslayer bag is not affordable for most people since each bag can cost up to $300.
Pros:
Sturdy build quality.
10-year warranty policies.
Cotton filling.
Cons:
Highly expensive.
Ringside Heavy Bag – Best For Beginners
For beginners, familiarizing themselves with a basic heavy bag is necessary before moving on to other advanced models. This is the reason why I believe the Ringside heavy bag would make an ideal choice for boxing amateurs.
Admittedly, the appearance of this punching bag is not widely different from others. But what sets it apart is the design. Instead of using merely a cover bag, Ringside incorporates 2 inches of foam liner between the bag and the filling.
It provides a comfortable hitting surface for beginners, which prevents injuries or damages if the bag is too stiff. Personally speaking, I find this detail extremely considerate and useful.
But do not mistake it being beginner-friendly for lack of power. A Ringside punching bag is still robust enough with a weight of approximately 100lbs. At the top of the bag, you will spot several chains and swivels that help secure it for the gym or home use.
At the bottom, a D-ring is included to keep the bag in its ideal shape. Last but not least, its external cover using power hide is immune to most cracks or rips, so you do not have to dial down on the force of your movements.
That being said, some customers have complained about the slow delivery of this product. While it does not necessarily affect the quality of Ringside heavy bags, you will have to be patient waiting for your package's arrival.
Pros:
Foam liner layer.
Best for beginners.
Powerful.
Cons:
Slow delivery.
Century Wavemaster Heavy Bag – Best Reviews
With nearly 1800 reviews on Amazon, the Wavemaster heavy bag from Century caught my attention almost immediately. What is it about this item that leads to such a strong sales record? Let's find out together!
Firstly, the Wavemaster bag stands out from other competitors due to its sturdy design. The manufacturers include a pole bag on top of an ultra-stable base, which creates a two-piece punching bag. Essentially, the bag will stay fixed on the base, saving you tons of effort while practicing.
Secondly, these bags come with a highly durable vinyl cover and high-density foam fill. The combination of these two materials results in a rigid yet forgiving punching surface. You never have to worry about spraining your wrists or ankles!
Thirdly, this punching bag is compatible with plenty of filling material. Whether it is sand, water, fabric, or cotton, Wavemaster makes sure to prevent the filling from sinking, keeping the bag standing upright all the time.
Unfortunately, this heavy bag from Century is rather bulky and heavy. It weighs up to 270lbs, twice as much as the typical heavy bag. Furthermore, the bag takes up plenty of space given its hefty size. For those who wish to own a compact punching bag, this item will not suffice.
Pros:
Amazing reviews.
Durable, two-piece design.
High-quality material.
Can be filled with all materials.
Cons:
Only available in XXL size.
Combat Sports Heavy Bag – Best For Limited Budget
See Latest Price
Are you having a hard time buying a heavy bag with no more than $100 to spare? If yes, then look no further than the Combat Sports punching bag. At a mere cost of $99, this item provides the basic functionality of gym equipment.
Since it is almost dirt cheap compared to other products, do not expect the bag to be pre-filled. You have to use sand or rags for filling at home. But besides this inconvenience, you can still get a lot of things done with Combat Sports.
As for the outer material, the manufacturers utilize faux leather, a traditional substance in the bag-making industry. Its rugged surface helps form the shape of the Muay Thay bag and absorbs the shock upon contact at the same time. Since the choice of filling is entirely yours, feel free to pick something that does not settle over time.
Another reason why this bag deserves your money is its chains and straps at the top. There are four sewn zippers where a D-ring is included. The four chains hang the bag off the ground, giving you enough flexibility to practice various movements. Not so bad for something so economical, right?
But still, the smell coming off from this punching bag is rather repulsive. If you are sensitive to odors, you might have to wash it several times before actually using the gear.
Pros:
Highly affordable.
Faux-leather cover.
Stable straps and chains.
Cons:
Come unfilled.
Horrible smell.
Meister Heavy Bag – Best For Storage
Another wonderful heavy bag that I bet you want to try is the model from Meister. This item wins my heart by the attached dusty case, which covers the entire bag during storage or transportation.
While many companies overlook this tiny detail, Meister pays attention and optimizes the user experience by providing customers with the easiest way to properly care for the bag.
Even better, the bag is made from thick military-grade textured vinyl. This material is rarely used in heavy bags due to its expense. Not only is it ideal for striking and punching, but the vinyl also fails to collect dust and rust. Given how low maintenance the bag is, Meister is truly among the best choices for your home gym.
That is not to mention how soft and durable the punching bag is, as it uses packed textiles for consistent density. The elasticity minimizes the risks when you land your punches or kick your legs, so you can feel comfortable enough even if you are a novice. As the bag meets the standardized weight of 100lbs, you will not have a hard time getting used to how it works.
Despite all these positive features, Meister does have one small problem. The main seam running along the side of this bag is slightly off compared to other seams.
While it does not necessarily lead to rupture or cracks, the aesthetic of this product might be compromised.
Pros:
Dusty case provided.
Military-grade textured vinyl cover.
Soft and elastic.
Cons:
Main seam seems off.
Prolast Heavy Bag – Best For Appearance
Do you need a heavy bag that stands out at the gym or at home? These items from Prolast will definitely satisfy your needs. Available in three colors, namely black, blue & yellow, and red, Prolast heavy bags pride themselves on bright exteriors.
But the charm of these beasts does not end with their appearance. Each of the bags is tripled stitched for better durability and stability, so ripping is not likely to happen. The canvas-backed synthetic leather cover is also waterproof, making it suitable for both indoor and outdoor use.
The inside of this bag is fully packed with shredded poly-fiber material, acting as a shock-absorbent surface. Even if you are a professional fighter and practice regularly, Prolast will endure all.
If you are concerned about how to hang it properly, rest assured that each bag comes with several seat belt nylon straps and D-ring tabs. Simply hook the ring to wherever you want to place the bag, then you are set to go.
While Prolast seems like a real deal, the product itself is not flawless. Some customers are not pleased over how stiff the bags are initially since it only loosens after being used a few times.
Plus, not everyone can afford a punching bag exceeding $200.
Pros:
Colorful appearance.
Tripled stitched for better durability.
Waterproof cover.
Cons:
Needs softening.
Slightly expensive.
Century Body Opponent Bag – Best For Unique Design
This recommendation is not the same as others, as the product is a body opponent bag rather than a traditional punching bag. However, I believe it still works wonders for your training sessions, so do not hesitate to spare a few more minutes assessing this item.
At first glance, the Century body opponent bag draws attention with its mannequin design. An upper male body is placed upon a base, creating a solid target for kicking and punching.
The torso is made from high-strength plastisol filled with urethane foam for flexibility and sturdiness, successfully mimicking the sensation of fighting a real person.
As far as the base is concerned, polyethylene makes a concrete foundation that can host up to 270lbs of material. Very impressive indeed!
The body opponent bag is also adjustable, meaning you can switch from the height of 60'' to 82''. The entire structure is designed to bear excessive force, providing customers with the most realistic fighting scenarios. Should you want a change from punching bags, this mannequin offers an excellent alternative.
Still, you might be a bit disappointed to learn that these opponent bags are not pre-filled. Once purchasing, you have to put sand or textiles inside so they can stand upright.
Pros:
Mannequin design.
Solid base.
Best for realistic training.
Adjustable.
Cons:
Not pre-filled.
Fairtex Heavy Banana Bag – Best For Price
For those of you who want a reasonably priced, medium-performance punching bag, I suggest you have a look at the Fairtex heavy banana bag. In most aspects, it is almost identical to the traditional heavy bag from the same manufacturers.
The outside cover is made from faux leather, creating a fluffy surface that absorbs the shock and force upon contact. At the top of these bags, there are several nylon belts with strongly sewn stitches, securing the bag where it is mounted.
Whenever using a punching bag from Fairtex, there is rarely anything to complain about.
The most noticeable difference between the banana bags compared to other punching bags is their design. Instead of the cylindrical shape, this product grows bigger towards the bottom.
This way, all the weight is distributed at the end of the bag, giving you a perfect angle to practice low Thai kicks. Even better, you will find a round circle painted in white at the middle of the bag, providing you with a precise aim as to how to hit properly.
Another bonus of these banana bags is how affordable they are. For under $150, you can get a durable bag that lasts for years. Given how functional the bags are, I believe buying the Fairtex banana bag is a bargain.
Admittedly, this product is not as visually pleasing as other items. But then again, it will not be a big issue for most people.
Pros:
Reasonably priced.
Faux leather cover.
Banana-shaped.
Cons:
Looks unpleasant.
Ring To Cage Banana Heavy Bag – Best For Sturdiness
Durable, available in many choices, and highly versatile are the three adjectives I use to describe the heavy bag from Ring To Cage. These items look pretty much the same as other traditional punching bags, with their upright shapes and five colors (black, blue, green, white, and red) to choose from.
Upon closer investigation, you will see how the cover is made entirely from heavy-duty polyester coated with vinyl. Unlike faux leather, which might rip at some points, this material is much stiffer and more resistant to daily wear and tear.
While the durability of these bags is admirable, I find myself drawn to the unique lace-up closing system at the top of each bag. Instead of using cheap zippers that can come off when mounted incorrectly, the closing system keeps the filling well inside.
This means you can exert physically as much as you can without worrying about the bag falling off. Coupled with the welded steel D-rings and leather straps, Ring To Cage sees to it that you get to enjoy an exhausting training experience.
Nevertheless, Ring To Cage needs to work on customer service. Despite the exceptional quality of their products, the company does not attempt to respond to inquiries.
Pros:
Heavy-duty polyester coat.
Unique lace-up closing system.
Metal D-rings and leather straps.
Cons:
Lack of response from the manufacturers.
Comparison: Standard Heavy Bag Vs Muay Thai Bag (Banana Bag)
Heavy bags – also known as punching bags – are cylindrical gear used for physical exercises. It is usually filled with sand, fabric, or any other elastic material that allows force absorption upon contact.
Whether you are a professional or an amateur in martial arts, heavy bags provide a solid target for practicing punching and kicking.
While the concept of heavy bags is universal, manufacturers have come up with different varieties to satisfy a wider range of customers. When shopping for the best products, it can be overwhelming trying to determine which one is more suitable for your needs.
But worry not! We will go into detail about the two most popular options, namely standard heavy bags and Muay Thai bag (banana bag). Hopefully, you will have a better idea of how these two are different from one another.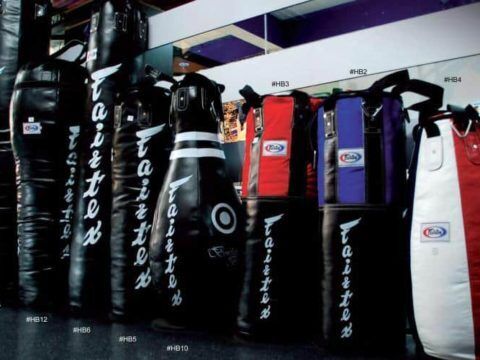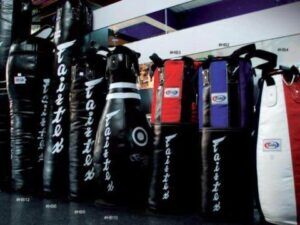 Standard Heavy Bag
Standard heavy bags originate from Western countries, and they tend to be a popular choice for gyms. This is thanks to their compact size and versatility. Each heavy bag is usually no longer than 1.5m (or 60 inches) and no wider than 33cm (or 13 inches).
A typical heavy bag weighs roughly from 90 to 110lbs, but you can find smaller or heavier ones upon special request.
You can choose to buy filled or unfilled bags based on your preferences, but bear in mind that the former is slightly more expensive than the latter.
The most mediocre heavy bags are available for purchase at approximately $100, but of course, do not hesitate to pick higher-end products within the price range of $200 and beyond.
As far as functionality is concerned, heavy bags are used for almost all movements. For your hands, feel free to elbow, knee, and punch the bags. For your legs, high kicks are an excellent way to warm up with a heavy bag.
However, due to their shortness, heavy bags are not designed to accommodate low kicks.
Another disadvantage of this equipment is its lack of stability. If the user exerts too much force, the bag ends up swinging around instead of staying in one place.
Muay Thai Bag
Muay Thai bags are also known as banana bags, which serve as the standardized punching bags in Muay Thai or MMA games. At first glance, these bags look identical to heavy bags. But the difference lies in their size and application.
Unlike heavy bags, Muay Thai bags pride themselves on having a length of almost 1.8m (or 6 feet). While the diameter remains the same, their added length means the bags are much heavier and more difficult to move.
While some people dislike the effort required to practice with a Muay Thai bag, its density and sturdiness allow users to work on their low kicks and be as strenuous as possible.
Regarding the price, Muay Thai bags are more costly, which is understandable given the amount of material and fillings needed. But do not shy away from investing in the right gear. If you intend on being serious with Muay Thai or MMA training, using a properly made banana bag is a must.
How To Take Care Of A Muay Thai Heavy Bag
Heavy bag maintenance should not be a big problem, as long as you stick to the instructions. Below are some of the suggestions on how to keep your bags as sturdy as possible.
Regular cleaning:

After each training session, use a damp rag to brush the sweat and dirt accumulated on the surface.
You can leave the bag to dry on its own or use a dry towel to remove the excess moisture.
Leather cover conditioning:

If your heavy bag is made from faux or real leather, it is essential that you keep it conditioned.
Once every two months, apply a layer of leather conditioner across your bag, so it stays smooth and firm.
Frequent check-ups at the metal pieces:

Some of the Muay Thai bags come with steel D-rings and straps at the top. Over time, these details can get rusty. In the worst case, they end up breaking and letting your bags fall to the ground.
Therefore, you need to oil these pieces and get them replaced in due time.
FAQs
1. Are Muay Thai bags softer?
Yes. If stuffed with too many hard fillings, the content of a heavy bag tends to travel down the bottom. Over time, it leaves the bag unbalanced when all the weight is focused solely at one position only.
To prevent this issue beforehand, manufacturers use softer, more elastic material to craft a banana bag. These include water-filled cores, foam rubber, rags, etc.
That being said, if you feel like your Muay Thai bags are too lightweight, it might indicate a problem with the packing. Consider putting in more fabric for even distribution, or else injuries are possible.
2. Should a Muay Thai bag touch the ground?
When hanging a Muay Thai bag, some people prefer having it off the floor for approximately 3 to 6 inches. This space gives you more freedom and flexibility to wander around and practice various movements.
But if you want to concentrate on low Thai kicks, it is better to let the bag rest on the floor. The bottom of your bag should be touching the surface while its body curves like a banana.
This position stabilizes the bag for kicking, as it does not swing or fall over easily.
3. How heavy should a Muay Thai heavy bag be?
The best Muay Thai heavy bags for home use should be around 100lbs. But it does not mean you cannot use smaller or heavier bags. There are mini banana bags weighing 70lbs for beginners. On the other hand, advanced fighters help themselves with 150-pound bags for excessive training.
At the end of the day, there is no rule dictating how heavy your banana bag should be. Make sure to find a bag that goes well with your stature and fitness level. This way, you will be able to make the best out of each gym session.
4. What are Muay Thai heavy bags filled with?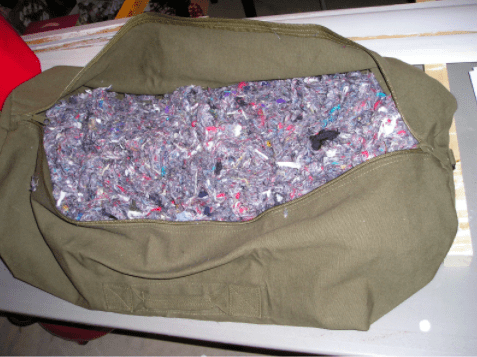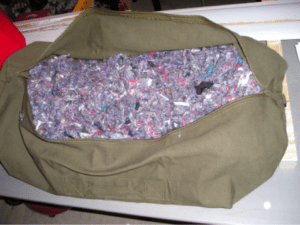 There are many things that can fill up a heavy bag. For example, you can take advantage of worn-out clothes and shred them into smaller strips. These textiles give your punching bag a softer surface upon contact, and they are best for medium punches. While shredded pieces of clothes do not sink to the bottom, they require a substantial amount to balance the bag.
Do not forget to remove any buttons, name tags, decor, or zippers. If left overlooked, these tiny details can pierce through the cover of your bag and, worse, leave your knuckles and legs bruised.
Another common choice is to use sand for filling. Professional fighters enjoy sand-filled bags as they are heavier, sturdier, and more tolerant with hard punches and kicks.
Still, there is one drawback to this material. Over time, sand tends to collect at the base of the bag, making it much stiffer while the top feels empty and lightweight. Should your techniques not be sufficient enough, you are more prone to injuries.
For those who are above the level of the cloth-filled bags but have yet to master sand-filled bags, sawdust provides an acceptable alternative.
This material is highly consistent and spreads out evenly, creating a perfect shape for your banana bag. It is hard enough to accommodate medium to slightly heavy kicks and punches, but not too rigid to cause damage.
5. What is a banana heavy bag?
Since banana bags are more expensive and more difficult to use than standard heavy bags, you might not be familiar with them.
A banana heavy bag is more commonly known as a Muay Thai heavy bag. Aptly named due to its shape while resting on the ground, banana bags act as a punching target for Muay Thai and MMA fighters.
You can find these items lying around at a gym or at home, ready to be swung around by amateur and advanced users alike.
6. Do heavy bags come pre-filled?
In most cases, heavy bags available for purchase are already filled. There are always unfilled versions for those who wish to fill the bags themselves, but the options are rather limited.
7. Can you use mulch for heavy bags?
Yes. Shredded pieces of rubber mulch are lightweight and consistent enough to fill the insides of a punching bag. Not only does it slow to sink down to the bottom like sand, but it also distributes the force evenly when you punch or kick.
This way, the training session feels more real and safer.
8. Can you fill a punching bag with water?
Theoretically speaking, water can be used for standing punching bags. It is cheap and shock-absorbent. However, transferring water into an empty punching bag can be challenging.
That is not to mention how the bag tends to have tiny leaks and ruptures, resulting in water leakage. Therefore, not many people enjoy water-filled punching bags.
9. What should you use to fill the base of a punching bag?
Source
If you purchase a two-piece punching bag, it is best to fill the base with sand. Their heaviness will prevent the bag from wobbling, giving you the necessary rigidity to work out.
10. Can you punch a wall instead of punching a heavy bag?
No. Punching a wall is not as effective a training method as a heavy bag. Not only does it increase your risk of physical injuries, but it is also inefficient regarding your performance improvement.
11. Does punching a heavy bag make you a better fighter?
Yes. Punching a heavy bag using the right techniques increases your strength and enhances the fluidity of your movements. Moreover, it also helps you build up your skills and stamina, which will be useful for real fighting sessions.
Conclusion
Now that you have finished reading this guide, buying the best Muay Thai heavy bags should be no problem. Do not forget to check out the pros and cons of each product so that it meets your expectations.
Last but not least, if you find the article useful, make sure to forward it to fellow gym goers and see what their opinions are!